Gone are the days of sticking with the status quo for your legacy ERP system. The "traditional" ERP monolithic, suite-based systems that do not support digital business initiatives are no longer in favor. Instead, they have been replaced with postmodern cloud ERP strategy and systems that will empower digital business outcomes now as well as provide agility and flexibility to speed adoption for technological advancements in the future.
Keep in mind, there is no one-size-fits-all postmodern ERP strategy. A business should define its strategy to suit its unique needs. It needs to be a new strategy for business applications which utilizes (post)modern technologies (and a postmodern ERP platform) to deliver faster response and better return on investment—without sacrificing integration, integrity, and/or governance.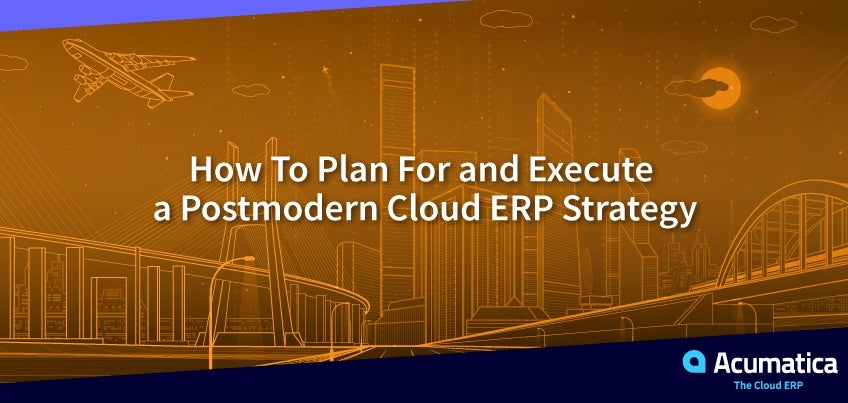 Defining postmodern cloud ERP
The term "postmodern ERP" represents the next evolution of legacy or "modern" ERP. In our first post, Digital Transformation and Disruptive Innovation: Painting the Picture of Postmodern Cloud ERP, we discussed that the naming of postmodern ERP is attributed to Gartner in 2014, who used the postmodern art movement as their example. Both postmodern art and postmodern ERP rejected and deconstructed the modern approach that came before them. Due to its inherent flexibility and agility, postmodern cloud ERP is a combination of the best-in-breed approach to business management applications and the modern suite-based approach to ERP.
Postmodern ERP, such as Acumatica's cloud-based ERP, is a technology strategy that automates and integrates administrative and operational capabilities like finance, HR, manufacturing, and distribution. This strategy delivers a balance between vendor-delivered integration, business flexibility, and agility.
Here are the advantages of using a postmodern cloud ERP strategy and implementing cloud ERP software:
Unlock enterprise agility (no matter the size of your business)
Respond rapidly to changing market conditions
Adapt quickly to disruptive technologies and business processes
Deliver consistency across projects, clients, and partners
Easily expand the functionality of your system without sacrificing data integrity
Improved usability and user adoption
According to Gartner, a postmodern approach includes two or more separate strategies, and each application the organization utilizes falls under two categories:
Administrative: This strategy focuses primarily on administrative functionalities like financials, human capital management, and indirect procurement. This is a more service-centric approach to ERP rather than for those needing operational capabilities. Some industry-specific functionalities may be incorporated in the overall ERP strategy, but at its core, the focus is on administrative functions.
Operational: Product-centric industries, like manufacturing, distribution, retail, etc., will likely expand their ERP strategy to beyond administrative tasks into operational areas, such as order management, inventory management, manufacturing and supply chain, to maximize operational efficiencies.
Organizations should develop individual strategies for administrative ERP and operational ERP. Strategies for selecting, deploying, and managing applications that fit into each of these categories are different because the applications—and how they are utilized within the organization—are so dissimilar.
Often, a postmodern cloud ERP may include integrated applications from two or more vendors. The ability to combine cloud ERP software from different vendors without sacrificing data or processing efficiency allows you to choose the application that best fits your company's needs.
Postmodern cloud ERP strategy: the pace-layered approach
One example of a balanced postmodern ERP strategy is the pace-layered approach, which was adapted from the architectural design principle of shearing layers, or pace-layering. This concept refers to buildings as composed of several different layers of change which evolve in different timescales. In architectural design and technology systems, this leads to maximum adaptability by utilizing a granular approach.
The Pace-Layered ERP strategy divides information technology systems into three categories or layers:
Systems of Record: These systems support the core business functions and manage business critical data and processes with a slow rate of change and are often subject to regulatory changes.
Systems of Differentiation: These applications utilize unique company processes or industry-specific capabilities, with medium-cycle change requiring frequent reconfiguration to accommodate changing business practices or customer requirements.
Systems of Innovation: These applications have a short life-cycle and can be built ad-hoc to address emerging business requirements or opportunities. Often using departmental or outside resources and consumer-grade technologies.
By sorting applications in this way, organizations can apply the appropriate governance, funding, and data-models based on the characteristics of each application.
How to create a postmodern cloud ERP strategy
After learning about postmodern cloud ERP and the need to have multiple strategies (which then fall into two categories as outlined by Gartner), as well as seeing an example of one type of strategy, here are the steps to creating a postmodern cloud ERP strategy:
Establish a clear view of business requirements, goals, and the evolving business strategy.
Ensure which current and prospective solutions will effectively set the organization up for success.
Align all business needs with architectural components to establish transition plans.
Implement new solution(s) or update to current release(s).
Eliminate unnecessary modifications and leverage approved, supported extensions and applications.
Collaborate with vendor(s) and/or partner(s). Together, set realistic goals and proactive alerts for upcoming updates.
Maintain detailed business process documentation.
Develop change management and testing procedures.
Leverage administrative and end-user training to ensure the system is being used as intended by all users.
Regularly apply patches and updates.
Apply version upgrades as available.
Need help developing a postmodern ERP strategy and with ERP implementations? Feel free to reach out and we'll schedule a time to chat!