A faster and more technology-driven society means consumers want faster ways to pay. A 2016 survey by TSYS revealed that 75% of consumers prefer to pay with credit or debit cards, and the trend of paying via credit or debit card is gaining traction in the B2B retail and ecommerce world, as well.
As a result of the large-scale and costly credit card data breaches of the last ten years, however, consumers and businesses fear potential data breaches and may be less willing to use cards. Not surprising since a 2017 study conducted by the Ponemon Institute reported that the average total cost of a data breach is almost $4 million!
Data breaches cause significant financial burdens to businesses and result in a loss of trust from customers. Many clients choose to permanently take their business elsewhere following a payment data breach.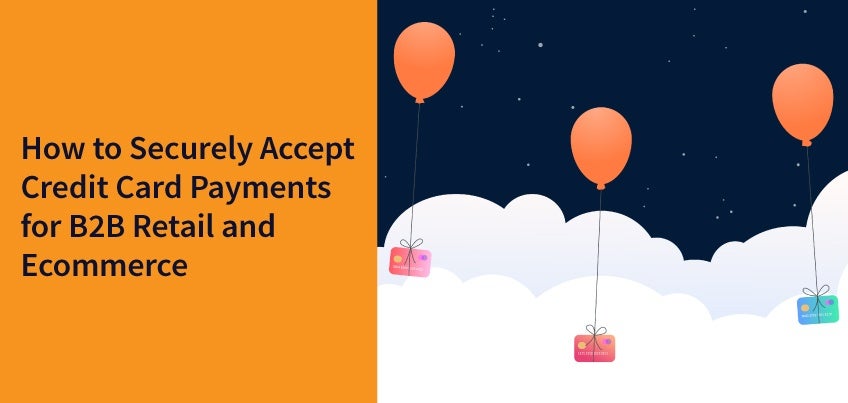 Two ways B2B retail and ecommerce businesses can offer payment security
The importance of secure credit card transactions increases even more as the use of credit and debit cards becomes more prevalent in the B2B space. Practices such as saving customer credit card information onsite make a company liable in the event of a data breach and can result in crippling fines. It's up to you to make sure you're accepting credit cards safely, for the good of both you and your customer.
Let's look at how those of you in the B2B retail and ecommerce arena can avoid data breaches and loss of business as well as guarantee security for your customers.
1. Make sure you're PCI compliant with the right B2B ecommerce software
The first step to securing your credit card transactions is making sure your B2B ecommerce software is PCI compliant. The Payment Card Industry (PCI) Security Standards Council was formed to hold those who handle credit card information to a higher standard of ethics. Every business that processes credit card data must follow PCI standards, a set of rules designed to reduce the risk of data theft.
The benefits of being PCI compliant are significant. Not only will you reduce your risk of a data breach, but you'll limit your company's liability should a breach occur. In addition, failure to meet PCI standards can result in hefty fines.
To become PCI compliant, select the right B2B ecommerce software and refer to the self-assessment questionnaire provided by the PCI Security Standards Council. For questions on PCI compliance, feel free to reach out to a Century Business Solutions' expert.
2. Choose B2B ecommerce software and payment solutions that employ both encryption and tokenization
Next step—use an integrated payment solution and B2B ecommerce software to safely store customer payment information. They will streamline the payment process and eliminate the temptation to store credit card information yourself.
Choose a solution that employs both encryption and tokenization. Encryption translates cardholder data into a new, unrecognizable language using a set key. Tokenization replaces data with completely random sequences that still work within your system as "tokens" but have no relevance outside of the system and cannot be decoded. The original data is stored securely offsite. Tokenization lends itself particularly well to PCI compliance. Encryption can be broken, but the combination of encryption and tokenization leads to a more robust and secure system than either method on its own.
We recommend EBizCharge for Acumatica for safe, PCI-compliant storage of payment information. The solution encrypts and tokenizes sensitive data while streamlining payment acceptance. You'll save time entering in credit card information for your repeat customers and eliminate security risks that stem from storing payment information yourself. EBizCharge also integrates seamlessly with Acumatica, allowing you to accept credit cards directly in the software and apply payments to invoices automatically.
B2B retail and ecommerce businesses: learn how to protect yourself and your customers
The speed and convenience of credit card payments are huge draws for retail and ecommerce companies in the B2B space, and it's possible to enjoy these benefits while protecting your company and your customers. Just remember to meet PCI standards and to use payment solutions like EBizCharge and B2B ecommerce software, such as Acumatica Commerce Edition, that will securely store your customers' payment information.