Meeting Customers' Expectations, Regardless of Business Size
With 36 percent of consumers spending more than 30 minutes (and 65 percent spending more than 16 minutes) comparison shopping before making a decision on purchasing a commodity product, you can pretty much be certain that your customers are checking out your competitors before purchasing. They compare all aspects of the purchase, including price, merchant rating, shipping and delivery dates. This is why customer experience is more important than ever. From offering the right product at a competitive price to exceeding expectations in the order fulfillment process, ecommerce merchants have to account for customer expectations irrespective of the business' size. Consumers expect the same results from a business with one warehouse as they do from an e-retailing juggernaut that processes millions of orders from around the globe on a daily basis. They want to select, order, and receive products efficiently.
In this article, which is part 2 of our 3-part Retail Series (read part 1 here), we'll look at how Acumatica Cloud ERP can help businesses consistently deliver on these consumer expectations and how Acumatica stands tall against the competition when it comes to an ERP solution that best fits ecommerce businesses.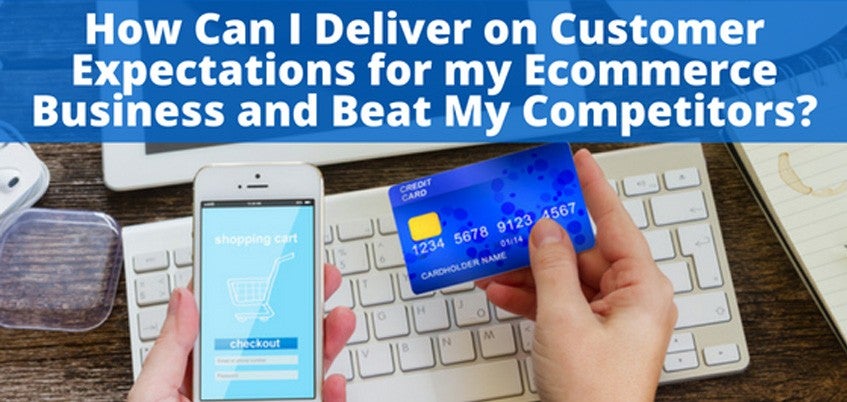 The Cloud – Super Fast and Very Low Maintenance
Cloud ERP software is essential for businesses looking to grow in the globally competitive and constantly evolving ecommerce market. After all, your ecommerce business resides on the internet, and you need an ERP/fulfillment solution that uses similar technologies. Browser-based Acumatica can be accessed by anyone in your value chain from any device with an internet connection. Third-party companies, warehouses, vendors, and anyone involved in the fulfillment process can have access to real-time information.
Traditional ERP systems charge per seat or license, which increase prices as more people get involved. Acumatica keeps costs low through its unique implementation and licensing model. Implementation is fast and easy because cloud computing eliminates the need to install hardware and software. Also, pricing is based on resource sizing and doesn't change with the number of users your company has. This gives you the ability to involve every person in the fulfillment and replenishment cycle.
Extensibility with Open Platform and API
Because Acumatica is dedicated to providing a dynamic experience to every user, it has an open platform and API, meaning developers can modify any aspect of the system to better suit their organization and workflows. Do you want to add custom fields or attributes to track additional customer or product data? How about define custom workflows or create new reports? No problem.
In addition to providing a superior and customizable solution, Acumatica also provides an open API which allows third-party software providers (or ecommerce software providers) to seamlessly integrate their solutions with Acumatica. Having an open platform/API also allows third-party providers to compete with each other in providing the best solution, ultimately benefitting Acumatica customers. Acumatica has a mature certification program for these independent software vendors (ISVs) which help customers procure extensions with confidence and trust.
All of these flexibility and customization options mean businesses can mold the platform to fit the shape and growth of their business. It even allows companies to swap extensions as they see fit. Add-ons from partners and developers can include the optimization of elements such as payment processing, product groupings, order management, and CRM to improve user experience of their ecommerce store.
Efficient Inventory Management
Forecasting the perfect amount of inventory prevents businesses from holding unnecessary amounts of capital in their warehouses. Acumatica gives you real-time visibility into inventory in production and transit, and it allows your business to avoid inventory shortages and overstock situations. This ensures your business keeps the proper level of "just-in-time" inventory on hand through automated replenishments as soon as inventory drops below a predetermined level. With vendors and warehouses being notified precisely when you need inventory, your business can serve customers without tying up valuable capital. Acumatica's monitoring features allow you to view the status of all items in your system as they make the transition from inbound to outbound delivery.
Effective Merchandizing – Actionable Dashboards and Reports
All of the perks of Acumatica are in a single cloud-based hub, where managers can view inventory levels, sales numbers, CRM information, and more on a personalized, job-specific dashboard. These displays allow managers to see the fulfillment chain and which products require extra effort in order to be moved from inventory. Statistics of your company's ecommerce activities can be customized to find desired insights about processes, allowing you to make educated, information-based decisions. Your progress on orders and customer relations can be monitored individually, providing a comprehensive view of fulfillment and the customer experience.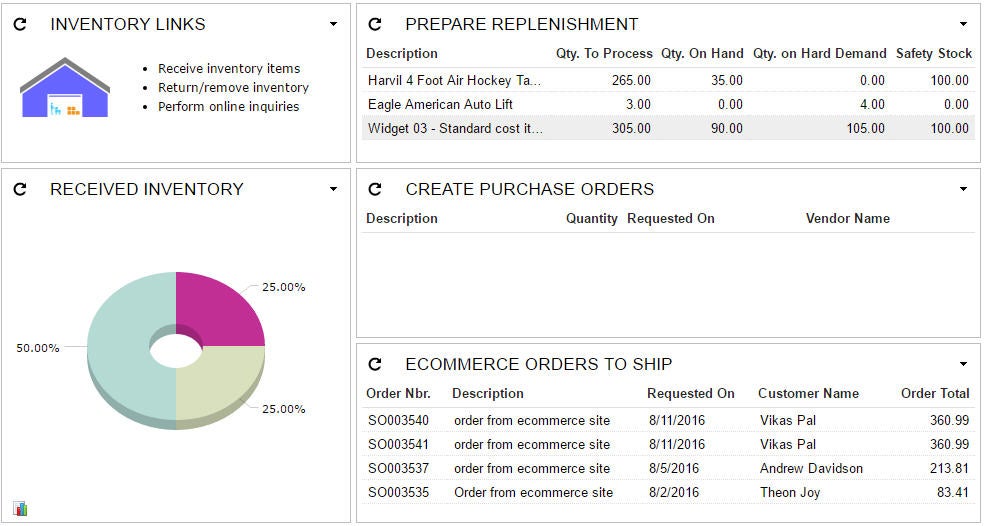 The ability for ecommerce merchandizers to quickly see which products are moving fast and which ones are not – along with the cost of procuring these products – allows them to quickly determine floor price for sales. From this information, they can also develop promotional campaigns to get rid of slow-moving stock, which weighs down the profitability of an ecommerce business.
Omni-channel Ecommerce
Once implemented, your business' Acumatica ERP system connects you into the robust network of Acumatica solution specialists and resellers. These professionals provide solutions and extensions, along with implementation and operational advice. From the warehouse to your ecommerce store to most loyal customer's doorstep, Acumatica is with you every step of the process.
With the ability to connect Acumatica to your ecommerce site, along with warehouse, shipping, point-of-sale systems, and a built-in CRM, Acumatica acts as the "single source of truth" and ensures a seamless omni-channel experience via in-store pickup, multi-channel returns and exchanges, and more. The right ERP can help you deliver a consistent customer experience. Here's how to find it.\
Built for Ecommerce
Most ERP solutions offer the following two options when it comes to supporting ecommerce:
Use electronic data interchange (EDI) methodologies built decades ago by the American automotive industry. This is limited by the technical capabilities and does not allow real-time, seamless integration.
Have an in-built ecommerce solution that is tightly integrated . While this option touts the advantages of a tight integration, these solutions do not offer the necessary capabilities on the ecommerce side to be attractive to businesses. Ecommerce is a vast area that requires a focused approach which most ERP companies who dabble in ecommerce tend to miss. In addition, having a tight integration has its drawbacks with limited promotional capabilities for the marketing teams, as ERP pricing and discounting engines rarely keep up with the creative promotions offered by ecommerce marketers.
Acumatica has focused on its core strengths, which is to offer a world-class ERP system while taking a modular approach to ecommerce that allows customers to easily add and implement new features as their needs evolve. In addition to providing the necessary integration points to seamlessly link with ecommerce systems, Acumatica has also included several out-of-the box capabilities in its product and customer management modules that make it the perfect complement to any ecommerce system.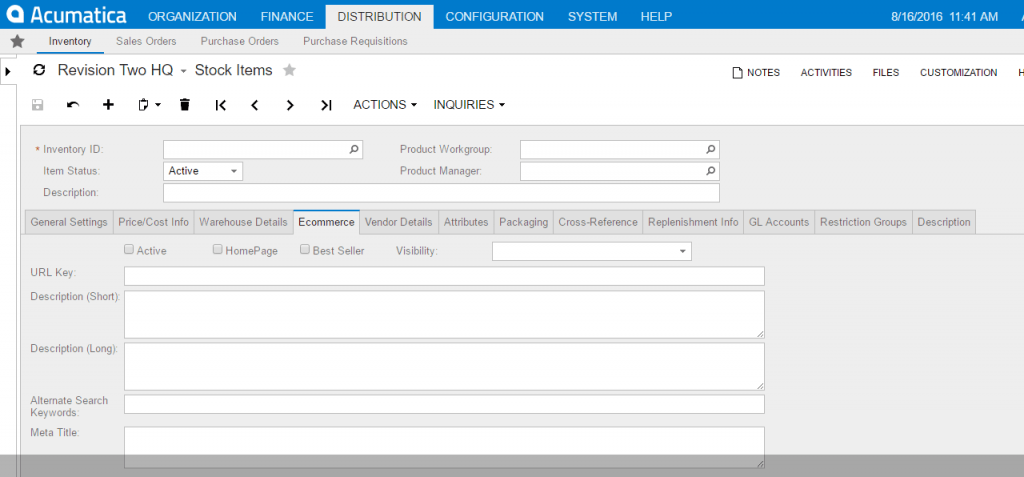 With Acumatica, an e-retailer can use the best of breed ecommerce system, such as Magento or Shopify for their website, and use the best-in-class ERP solution for their back-office, accounting, and fulfillment operations.
For help with the next steps or more information, contact us!